One could argue that Jonas Nordfors didn't decide to become a trampolinist by himself. That it was his family who made the decision. Because you see, when Jonas was born, his two older brothers were already practicing the sport. His mother and father also joined in, so it was only natural that Jonas accompanied them to the gymnasium. He grew up there – between the vaults and trampolines. According to Jonas, he started jumping the trampoline as soon as he learned to walk. He joined his first training group at the age of 2, and it just went on from there.
He improved every day. He practiced a lot. He was rewarded with medals. All was fine and dandy until that one day in 2008, aged 15, that would change Jonas' life forever and make him the athlete he is today.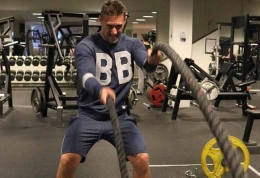 It was a training session like any other. Jonas was practicing his technique in the foam pit at his local gymnasium, like he had done thousands of times before. But this time, on this one jump, something went wrong. Jonas lost control and landed head first – punching through the foam and hitting the concrete floor below. In the fall, he clenched his teeth so hard that seven of them shattered. Leaving the pit with a stiff neck, he decided to go on and do two more jumps before calling the ambulance. Something didn't feel right. Four days later, he underwent spinal surgery. Two of his neck vertebrae were severely damaged.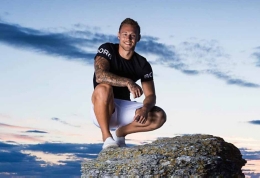 Fortunately, the surgery went well. Very well in fact. And even though the thought might have crossed most people's minds to quit jumping after such an accident, Jonas was back on the trampoline the same day he could remove his cervical collar. Understanding the risks associated with his sport, he now became more focused and meticulous than ever. The injury honed him. And led him to the gold medal in the Swedish championships – as well as seeing him become the first Swede ever to win the Nordic championships and finish 12th in the European championships. An impressive performance. And he just keeps on going!
JONAS IS WEARING: